Click Here to Order my Book: 3 Versions Available
Reviews:
5.0 out of 5 stars
Extensive coverage of the Eclectus By Just Me on January 19, 2008
I have virtually every book written on the Eclectus and this has the most extensive coverage. It's also current, published in 2003. Chapters include: Genus Eclectus (thorough description and many photos of the Eclectus subspecies); 1968 Expedition to Cape York; Collecting From the Wild (history of Eclectus importations); Captive Breeding Eclectus Parrots (purchasing, which subspecies, housing, keeping indoors, diet, nesting requirements); Keeping Eclectus Parrots Healthy (avian veterinarians, preventative medicine, routine husbandry, sick birds, basic treatment, feather plucking); Removal of Chicks, Handfeeding & Shipping (brooders, intensive care unit, hand feeding, talking to birds, break color, fledglings, future breeders, sale & shipping, after sales), Companion Eclectus Parrots in the United States – this chapter is written by the widely respected Laurella Desborough (housing, feeding, pelleted diets, behavior, veterinarian, keeping your Eclectus happy); and Importance of Keeping Records. Highly recommended.
---
5 of 5 stars
A truly great read Graham By nor72ton on August 9, 2015
Verified Purchase
A truly great read Graham,took me a long time to find a copy of this great work thanks so much for writing it, I only wish I still had the 2 pairs of aussies you sold me 20 years ago to go with it!
---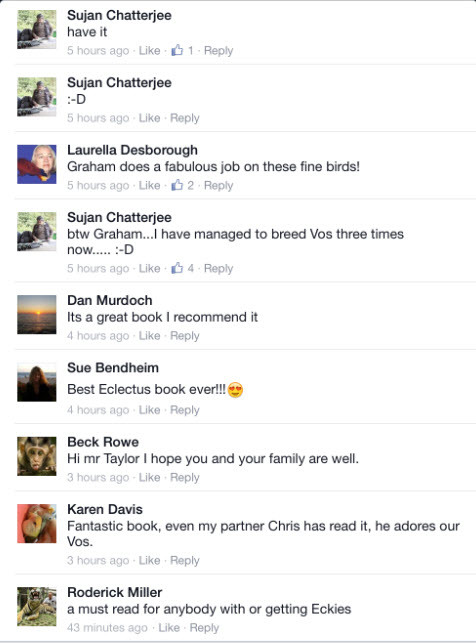 ---
Review 1.
Eclectus Parrots – an experience by Graham Taylor, published in 2014 is a welcome update and revision of his book first published in 2003.Eclectus parrots are among the most beautiful parrots in the world. They are native to New Guinea, Solomon Islands, and the Iron Range area of northern Australia, the Maluku Islands and Sumba Indonesia.
Taylor is a recognized Australian aviculturist who has spent his life specializing in Eclectus Parrots. He owned and operated the Australian Bird Park. He is credited with the first captive breeding of the White-tailed Black Cockatoo and also the Red-browed Fig Parrot. He was the Curator of Birds and later the Director of Lord Alistair McAlpine's Zoo in Broome Western Australia. Along with his son he developed the Aviculture Breeding and Research Centre in Bonville Australia.
The book is a valuable resource for anyone who wishes to breed Eclectus
Parrots or keep them as pets. Graham Taylor sites one of the biggest problems encountered by breeders of Eclectus parrots is the identification of the various subspecies. His first chapter deals with each subspecies. From his personal observations of each subspecies he describes their physical appearance and provides photographs of each subspecies. Taylordescribes the environment in the wild and where they are located and gives a subspecies identification chart including an in depth tail feather photo comparison.
Readers will find much additional information besides subspecies identification. Taylor also devotes chapters to the breeding cage requirements, diet, nesting requirements and handling of birds. He discusses, Eclectus Parrot health, how to spot a sick bird and what to do. Other chapters deal with chicks, hand feeding, brooders, fledgling, sales , shipping and the importance of record keeping. There is also a chapter written by a recognized American aviculturist Laurella Desborough on Companion Eclectus Parrots in the United States.
Even those who do not keep parrots would find the book of interest because Taylor includes discussions of his expeditions, his adventures travelling through dense rainforest, his encounters with aboriginal peoples, tree climbing to inspect nests and bird collecting. He describes the beauty of seeing flocks of wild parrots the danger of snakes and crocodiles. One can feel his interest and love of Eclectus Parrots grow.
The subtitle "an experience" is appropriate. It left me wanting more stories of his adventures. Graham Taylor clearly shows his love and respect for his homeland and the parrots he has devoted his life studying.
Nancy Richards
---