The Eclectus Parrot – New Kindle Version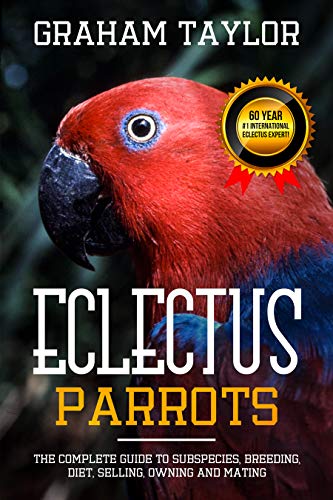 The Eclectus Parrot: The Complete Guide to Subspecies, Breeding, Diet, Selling, Owning and Mating – 204 Pages
By Graham Taylor – 60 Year #1 International Eclectus Expert
Table of Contents:
Acknowledgments
Introduction
Chapter 1 Genus Eclectus
1. The Grand Eclectus Eclectus roratus roratus
2. Vosmaeri Eclectus Eclectus roratus vosmaeri
3. Tanimbar Island Eclectus Eclectus roratus riedeli
4. Cornelia Eclectus Eclectus roratus cornelia
5. Aru Island Eclectus Eclectus roratus aruensis
6. Biak Island Eclectus Eclectus roratus biaki
7. New Guinea Eclectus Eclectus roratus polychloros
8. Solomon Island Eclectus Eclectus roratus solomonensis
9. The Australian Eclectus Eclectus roratus macgillivrayi
Chapter 2 The 1968 Expedition To Cape York
Chapter 3 Collecting From The Wild
Chapter 4 The Captive Breeding Of Eclectus Parrots
4.1 Purchasing an Eclectus parrot
4.2 Housing
4.3 Diet for Eclectus parrots
4.4 Nesting requirements
4.5 Catching and moving
Chapter 5 The Removal of Chicks, And Handfeeding
5.1 When to remove them
5.2 Brooders
5.3 The Intensive care unit
5.4 Handfeeding
5.5 Fledglings, when to remove them
5.6 Sale, permits, boxing and shipping
Chapter 6 Keeping Eclectus Parrots Healthy
Chapter 7 Companion Eclectus In The United States Of America
Chapter 8 The Importance Of Keeping Records
Order your Amazon Kindle or Print Version, please visit:
https://www.amazon.com/dp/B07S3PQLQQ
About Graham Taylor
My name is Graham Taylor and I was born in Grafton, NSW Australia, in 1940. I now live at Bonville, NSW just South of Coffs Harbour. I have been interested in bird keeping and breeding since the age of 15. I first started keeping native parrots, then when I got married I concentrated on the Australian Black Cockatoo's. In 1971 I was credited with the first breeding of the White-tailed Black Cockatoo (Calyptorhynchus funereus latirostis). In 1972 my family and I moved from NSW to far North Queensland to develop a bird-park. Our plan was to display and breed as many of our native Australian species of parrots and cockatoos, many species were bred here over the next few years.
We later sold the bird park and returned to NSW. In 1986 I was offered a position as Bird Curator at the new Pearl Coast Zoological Gardens, in Broome Western Australia. This Zoo was owned by The Lord McAlpine of West Green, London, United Kingdom. In 1989 I was made Manager of the zoo and was responsible for 39 staff 200 mammals and 1500 birds.
In 1993 after the zoo closed due to the health of its owner, my family and I returned to NSW, I purchased most of the bird collection and shipped them all back to their new home in NSW.
In 2003 I wrote the book "Eclectus Parrots An Experience" which was a great success. Then in 2013 I release an updated digital e book edition which is available via my web page www.eclectus-parrots.com
Order your Amazon Kindle or Print Version, please visit:
https://www.amazon.com/dp/B07S3PQLQQ
Cheers
Graham Taylor.